Jessie Reyez Dropping her Forthcoming EP "one song at a time"
Jessie Reyez Dropping her Forthcoming EP "one song at a time"
The phrase "some of y'all are moving in silence a little too loud" couldn't be further from the truth regarding Jessie Reyez
Jessie Reyez Dropping her Forthcoming EP "one song at a time"
The phrase "some of y'all are moving in silence a little too loud" couldn't be further from the truth regarding Jessie Reyez
The phrase "some of y'all are moving in silence a little too loud" couldn't be further from the truth regarding Jessie Reyez. Following her 2017 EP Kiddo, the Canadian R&B/soul singer has not yet released an album in 2018, but has casualty been dropping some unbelievably amazing singles. Among the eight singles that have been released since her last EP, one thing has become apparent — when it comes to making incredible music, singer/songwriter Jessie Reyez simply cannot miss. Though Jessie has publicly indicated that she will be dropping her new EP Being Human in Public "one song at a time," I'm still going to include the three singles she dropped prior to her EP projects because, well, their greatness needs to be discussed.
Dropping my next project one song at a time. You have two so far.

"Being Human in Public" EP

— Jessie Reyez (@Jessiereyez) August 22, 2018
Early in 2017, Jessie made a huge splash with her EP "Kiddo," however, not to be finished for the year, she released two additional singles later in 2017. The first of the two would be called "Phone Calls" (rate: 9/10). "Phone Calls" is a sharp song in which Reyez rides the speaker-thumping beat as she discusses the new love she is receiving from people who used to tell her she wouldn't make it in the music industry. Everything about this song just says "BOSS" to me, the way she delicately "sraps" (sing-raps) the melody, and at the end of select bars breaks out into a somewhat deeper and more raw intonation, only adds to the empowering implication of both the song and the cover art (a middle finger). This image is presumably meant for the people who are now approaching her to collaborate after her "ratings" have gone up. Jessie proving their initial thoughts wrong brings the entire piece to a full circle, infused with empowerment and inspiration. I love it.
The second of Reyez's 2017 singles is "Cotton Candy" (rate: 8/10). "Cotton Candy" instantly contrasts with the previous "Phone Calls" — this single is somewhat more instrumental and better showcases the singer's uniquely sweet and yet still very raw voice. In addition to the sonic contrast of the two 2017 singles, there is also a stark contrast in theme. "Cotton Candy" is founded on a desire to not lose a preexisting love. This song evokes a "baby can we work it out" sentiment that leaves the listener feeling optimistic — and possibly on the verge of texting their ex.
In 2018, Jessie's first single was "Figures, a Reprise" featuring Daniel Caesar (rate: 7.5/10). Initially, when I read that she remixed "Figures," a personal favorite of mine, I was ecstatic. Then, when I realized she featured Daniel Caesar, I knew I was going to have heart problems after listening to two of my favorite singers on one of my favorite songs.
Okay, so this is the time where I need to come clean. I absolutely love Daniel Caesar, I think he is so incredibly talented, but… I honestly liked the original "Figures" better. This is not to say that Daniel didn't absolutely kill his part, it's just that I feel in the original song you can literally feel Jessie's soul beaming through the speakers. When you add someone else into the mix, I feel it makes the song less personal, to an extent. I still love it; I just feel like the entire theme was changed — which might have been the intention to somehow uplift the beat of the song.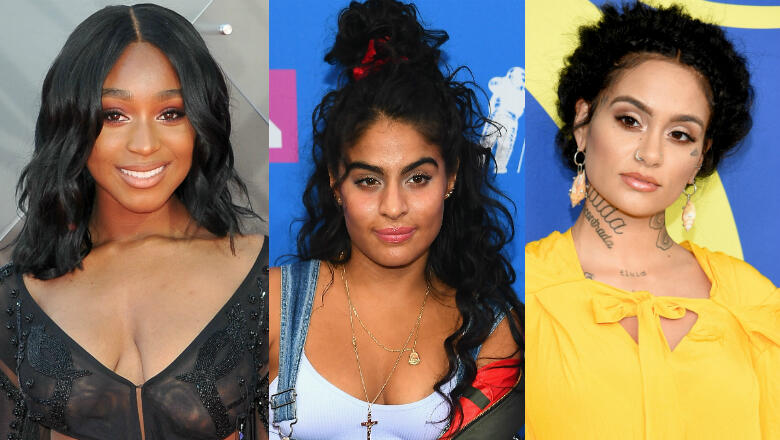 Heading into the beginning stages of Reyez's "one song at a time" EP, we have "Body Count" (rate 8.2/10). Though it appears the remix of this original song will be the version that officially appears on Being Human in Public, this original version really exhibits the dimensionality of the artist's voice. Hitting some high notes, and in the same breath drifting into deeper tones, this somewhat funky beat is an uplifting, empowering, and "boy, bye" type of song that gives me driving-with-the-top-down-on-a-sunny-day vibes. The addition of Normani and Kehlani on the "Body Count" remix made my heart so happy; the intoxicating melody of all three of their voices is truly perfect and only elevates an already-great song.
The second track on Jessie's forthcoming EP released as Apple Juice (rate: 9/10). WOW. This song really didn't care about my feelings at all. Beautifully orchestrated, this song tells the story of someone who doesn't quite understand how to love someone else. However, the singer implies that though this person hurts her, she will teach them how to love her because she understands that she cannot blame them for how they were, or how they perhaps weren't taught to love other people. Perfectly depicted by the cover art of a robot person who has apparently ripped out someone's heart, Jessie's voice does some crazy things on this track while she sings about forgiveness and understanding. This song is perfect for if you're driving alone or singing in the shower; I feel that it really proves the crazy raw talent that Jessie has as a vocalist.
The third track off Being Human in Public is "Sola" (rate: 9/10). This is probably one of the most beautiful songs ever; a Spanish ballad that truly touches the heart. This piece discusses how she is not the type of girl someone's mother wants them to be with, and that she is not what might be depicted as the "perfect wife." Though there is an acutely sad tone over the fact that she cannot be with this person, the mood shifts as the song progresses into her being unapologetically herself and proud of who she is.
What truly astounds the ear when listening to Jessie Reyez is that her capacity to tell a story through her music is almost undefeated. No matter what mood she is trying to capture through her songs, it always shines through and presents an experience that the audience can both hear and feel. Also, it wasn't noted above —however, it should be addressed — that her production literally SLAPS on every project she puts out. In general, Jessie Reyez is truly a 10/10 artist, and I am sure that Being Human in Public will prove nothing less upon its completion.
Are you excited for Reyez's forthcoming EP? Tweet us your favorite tracks so far at @hmtaux!!