The Rise of Migos
Raindrop. Droptop. How did Migos get on the top?
You've heard "Bad and Boujee," maybe "Slippery" and "MotorSport." But, how did Migos get to the top of the hip-hop game?
Migos is a hip-hop trio based out of Atlanta, Georgia. All three members are related and grew up together in Lawrenceville, Georgia. They rapped and recorded music in a small closet in a relative's basement, originally dubbing themselves as Polo Club. After making their first hit song "Bando," which appeared on their second mixtape No Label in June 2012, acclaimed Atlanta rapper Gucci Mane took notice and set up Migos with Coach K from the label Quality Control Music. If you aren't familiar with Coach K, he's well-known in the Atlanta hip-hop community for promoting young artists within the city. He's currently managing Migos, Lil Yachty and other up-and-coming Atlanta artists. With the help of Coach K and Zaytoven, a producer and beat-maker from Atlanta, Migos went on to create their third mixtape Y.R.N. (Young Rich Niggas.)
Y.R.N. was Migos' first big break, as the mixtape featured their next set of hits, "Hannah Montana" and "Versace." It was because of these singles, and the project as a whole, that the sound of hip-hop began to change.
Migos have been credited numerous times as being some of the founding fathers of the flow of modern day hip-hop and trap. This was largely, in part, to their flow on the song "Versace." As Migos continued to gain popularity, both inside and outside of Atlanta, more rappers were catching on to what made their music so catchy, especially Drake. Drake heard their single "Versace" and decided to put his own verse on it, which, when released, dramatically extended the reach of the single and the trio's third project.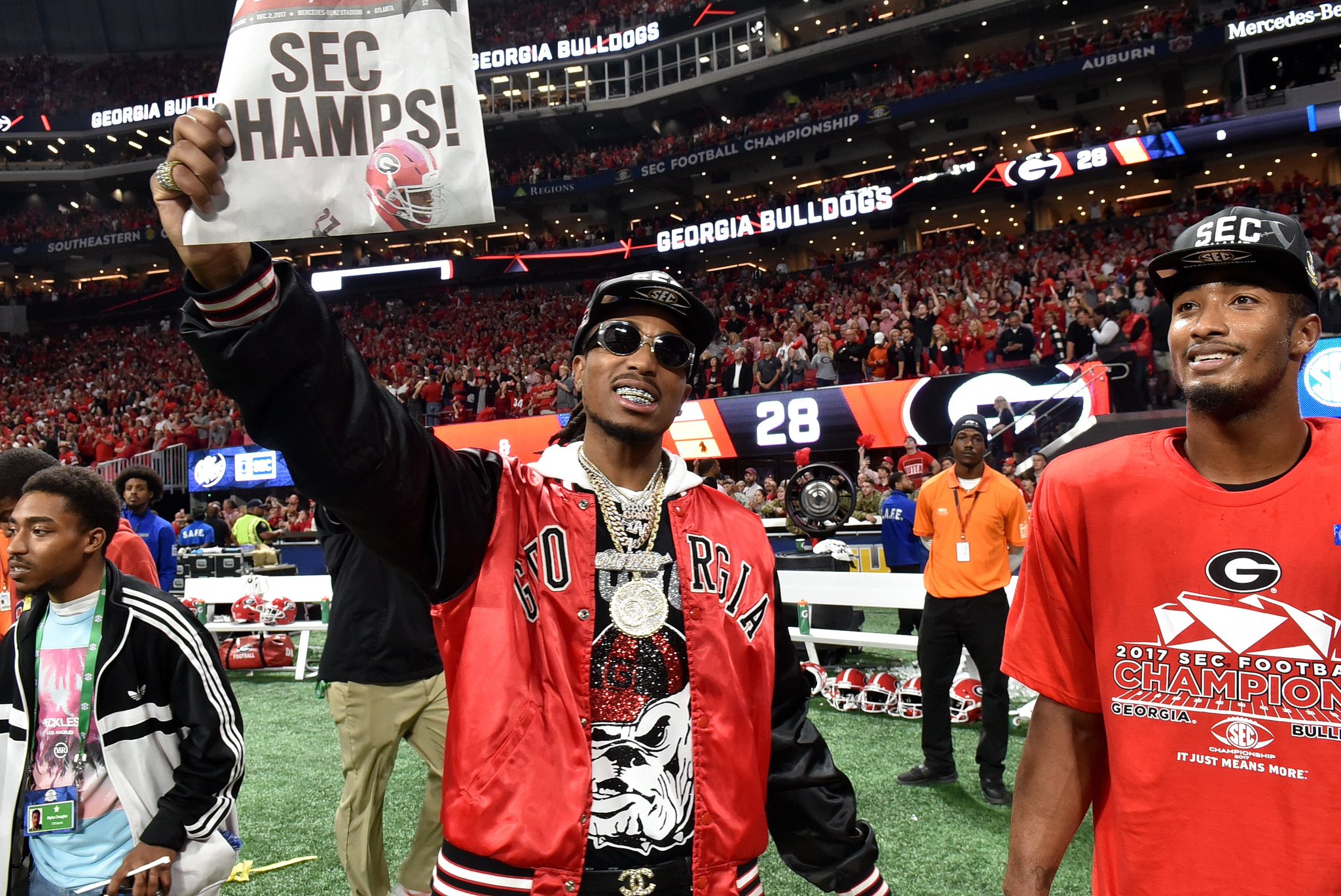 Migos continued to create music and went on to release their debut album, Yung Rich Nation, in 2015. Yung Rich Nation continued down the same path with the group's well known flow. Their hit single "Pipe It Up" was the foundation of dabbing and when the dance-craze first began gaining traction. After Yung Rich Nation, Migos made the song "Look at My Dab," further capitalizing on the worldwide trend of dabbing. While Migos was not yet a household name, dabbing certainly was. As a result, the song further increased the popularity and awareness of the trio.
Fast-forward to October 28, 2016, Migos releases the single "Bad and Boujee." The single saw success throughout the hip-hop community for a couple of months, but wasn't incredibly well-known outside of the genre. But, thanks to Donald Glover, the single exploded overnight.
When Childish Gambino name dropped Migos in his acceptance speech for the hit show "Atlanta", "Bad and Boujee" took over the entire country."I want to thank the Migos, not for being in the show but for making Bad and Boujee, like, that's the best song ever," Glover said. The song flew up the charts, going 4x Platinum and spent a total of four weeks as the number one song on Billboard's Hot 100 list. That's not bad for three twenty-something year old rappers who were recording mixtapes in a closet just a few years prior.
"Bad and Boujee" gave Migos not only their first platinum hit, but spawned the movement that is "Culture." As the song became a staple in every club and house party in America, Migos expanded into realms that even a year before would have been unimaginable. In late 2016, the rap group went viral off of a video in which Quavo repeated the phrase "A dab of ranch" while eating the popular snack "Rap Snacks" who Migos have a deal with. This video lead to a song which drove the entire marketing campaign for the product. Migos had officially gained the crossover appeal that many artists spend every waking moment trying to attain.
The release of their album "Culture" brought to fruition every ounce of hype that was put into Migos from the very beginning. We have reviewed the album here, but we'll briefly talk about its impact. Since its release, the album has gone platinum and spawned a nationwide tour. Hits such as "Slippery," "T-Shirt" and "Kelly Price" have solidified Migos in the forefront of pop culture and the burgeoning Atlanta hip-hop scene. They are frequently collaborating with other young artists such as Lil Yachty, 21 Savage and Young Thug. Migos' spot in the rap game is one of major importance for the future of the genre in terms of what city dominated the charts as well as an indicator of what record companies will look for in young talent, hoping to catch the next wave of artists.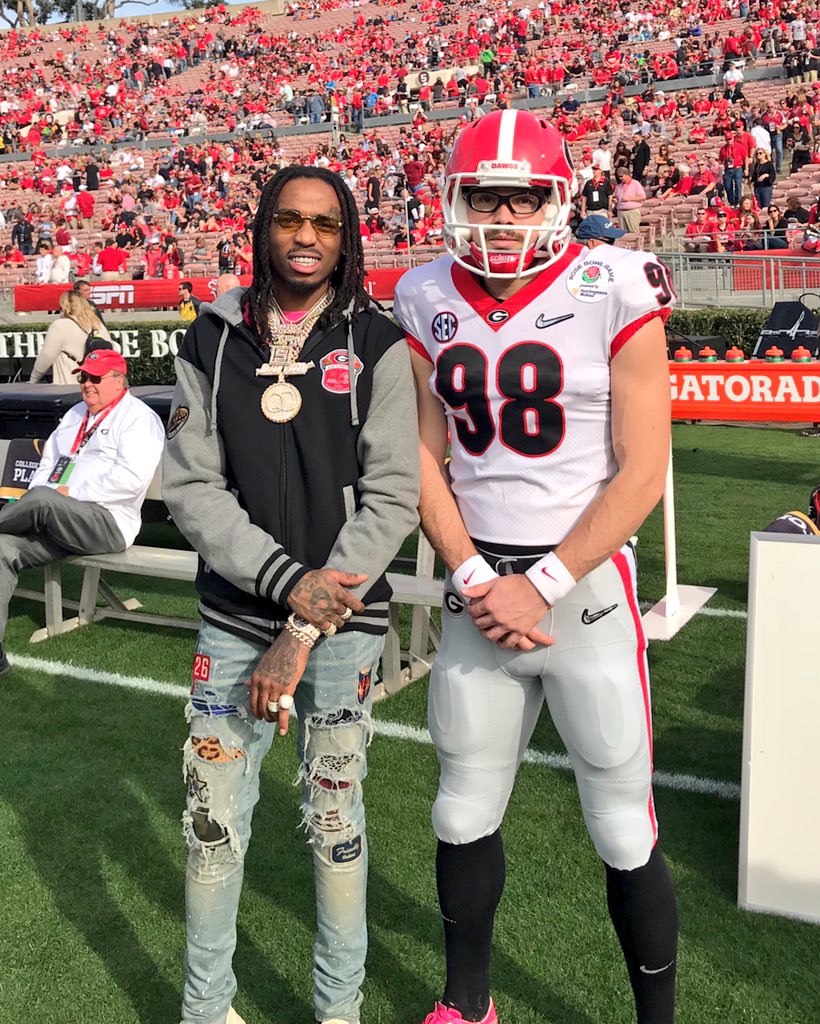 With Migos popularity has come much hate from hip-hop purists and other rappers alike. The trio nearly came to blows with rapper and critic Joe Budden during an interview with his fellow "Everyday Struggle" co-hosts DJ Akademiks and Nadeska Alexis at the 2017 BET Awards. While the fiasco is shrouded in mystery and false claims, a few things were very clear: DJ Akademiks was trying to stir up drama with Takeoff for being left off of "Bad & Boujee," Joe Budden had no interest in speaking with the group and Quavo had no interest in wasting either of their times. After Ak continued to prod Takeoff, who held the group down in its early years while Offset was in jail and Quavo hadn't yet discovered autotune, a simple mic throw and walkoff by Budden lead to Quavo standing up and approaching him. Fortunately no fight broke out, as Budden wouldn't have stood a chance against the three. Migos didn't let the incident go, with a recent spoof of the show "Everyday Struggle" featured in their video for "Ice Tray" off of the Quality Control mixtape 'Quality Control: Control The Streets, Vol.1" They've traded jabs over Twitter and other media, but recently squashed the beef saying there's nothing personal between the group and rapper.
Migos' story is a story we hear quite often: rappers who came from nothing and created something. Their popularity is in a lane of its own with worldwide appeal and no signs of falling off anytime soon. If Culture solidified their spot at the top of the trap rap game, Culture II will be them maintaining it and showing a new add-on to their sound with singles like the Pharrell-produced "Stir Fry." Reports from their January 24 album listening party tell us that Drake, Big Sean, 21 Savage, Gucci Mane and Ty Dolla $ign will be featured on the album. Be on the lookout for Armon's review of that, and stay tuned for what else Migos has in store for their career with a dab of ranch.
Quavo and Redcoats Image courtesy of Jared Bouland.