Atlanta Classics: Street Lottery
Atlanta Classics: Street Lottery
A throwback to a classic Atlanta Trap project.
Atlanta Classics: Street Lottery
A throwback to a classic Atlanta Trap project.
Throughout the years, trap music has grown leaps and bounds in hip hop culture. Trap music was born and bred in Atlanta around the early 2000s, with artists T.I., Young Jeezy, and Gucci Mane considered pioneers of the genre. These three were the Atlanta artists that brought the southern streets to hip hop. While cultivating their own rap kingdoms, trap music became very influential and many artists out of the south started to add to the genre. Young Scooter is one of those artists. In January 2013, Young Scooter released one of the classic trap projects to ever come out of Atlanta: Street Lottery.
Growing up in Atlanta, I became fond of trap music around 2007. I remember in middle school I would hear these songs on the radio and rush home after school to download them. Listening to the Durty Boyz and Greg Street, I would hear new songs everyday. Although I was a goofy kid in private school, I used to really love listening to trap music. I could not relate to any of the lyrics or the lifestyle they were portraying, but there was something about the hard-hitting, bass-heavy beats that had me mesmerized. Fast forward to my freshman year in college, and nothing had changed. I still was an avid fan of trap music and was constantly searching for new talent from not only the streets of Atlanta, but all over the south. Young Scooter was one of those artists that I had always heard on other rappers' mixtapes, but had yet to establish himself as a top artist in Atlanta. I listened to a couple mixtapes by Scooter, but wasn't blown away initially.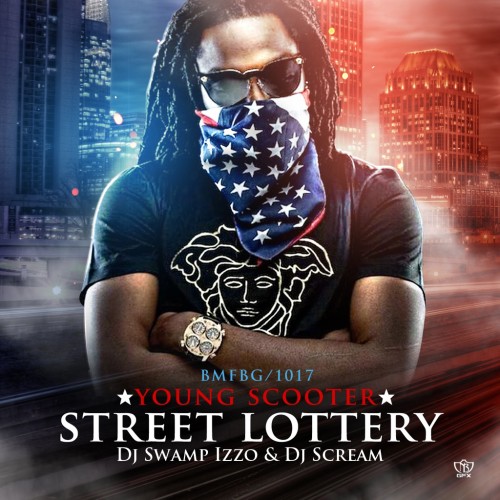 A couple months passed and Voice of the Streetz was released. I thought this mixtape was a solid piece of work. The three songs that stood out to me were "Hector Story," "Faster," and of course, the hit single "Colombia." These three tracks were very street driven, drug-heavy records. On "Hector Story," it's almost like Scooter brings you to his world of drugs and chaos. Scooter raps "He say amigo crossed him / He ain't keep it real I told him / 'How the fuck you gon' let him live?' / He say that's his brother by his wife kids." Along with features from Gucci Mane & Alley Boy, Young Scooter delivers a solid performance with "Faster." Scooter then became more noticeable in the commercial eye with "Colombia." I started noticed the gaining popularity of this song when people people were yelling "I JUST LEFT COLOMBIA!" all across campus. With this hit on his hands, Young Scooter caught the eye of me and many other hip hop heads across the country. It was apparent that Scooter's next project had hype, and I was anxious to hear Street Lottery.
In January 2013, Street Lottery was released. I remember looking at the cover and admiring the artwork. It was simple, but yet so great at the same time. The cover features Young Scooter arms folded, shades on, Versace shirt and a USA flag bandana wrapped around his mouth. The USA color theme continues with the color scheme of the cover while having the City of Atlanta behind him. Looking at this cover, it is like Scooter has imprinted himself on Atlanta hip hop legacy. The mixtape is hosted by Atlanta DJ's DJ Scream and DJ Swamp Izzo. Their tags are apart of why this mixtape is a classic. With the raspy voice of Scream, and jubilant voice of Izzo, it gives the mixtape its own tone. On the intro, it's like DJ Scream is hyping up Young Scooter for a heavyweight bout. As soon as I finished the intro track, I knew this was going to be a classic mixtape. I loved every minute of it, but my standouts were "Juggathon", "Beautiful Day", "Before Rap", and "Nothin More Important Than Money." These tracks really bring out the best of Young Scooter and what he stood for.
This mixtape had a great mixture of features ranging from an Future and Gucci Mane to more savvy artists like Bun B and Ma$e. Although the features on the tape are outstanding, they are not what makes Street Lottery a classic. This is Scooter's most memorable work because of a combination of great product, great marketing, and Scooter's original rap flow. This will forever be a one of the classic mixtapes from the city of Atlanta.
9/10