Yung Bans: Yung Bans Vol. 5
Yung Bans Vol. 5 Review
A review of Atlanta's own Yung Bans' 5th installment of his self-titled project.
Yung Bans Vol. 5 Review
A review of Atlanta's own Yung Bans' 5th installment of his self-titled project.
Yung Bans
Yung Bans Vol. 5
8.4
soundcloud famous
Yung Bans is a true Atlanta rap star in the making. Bans is only nineteen years old, but as of late, the young rapper has been making tidal waves. Thursday evening, Bans shared Yung Bans Vol. 5 - the fifth installment of his self-titled project series that he has been slowly releasing in parts since December of last year. I discovered Yung Bans earlier this year, following a tweet from Future, in which he reposted a Soundcloud link of a song called "Different Colors" ft. Lil Yachty. Being the curious person I am, I pondered who this Yung Bans person was who Future was giving a co-sign to. I was soon captivated by the apparent nothingness that was being spewed out of both rappers. It was like a pure feeling that could not be described wholly. After searching the depths of Soundcloud's corners and finding more unearthed songs by the artist Yung Bans, I considered myself a fan. So when Bans began to tease new music and a new project, it was as if it was a Pavlovian Response occurred.
I won't even cap — the first two songs on the nine-track album were a little underwhelming, which led to a somewhat of a slow start off to the album before the energy from Yung Bans became more familiar to previous works. It will only take a listener about five minutes before they reach the third track "Stacks in My Slacks" that I credited as showcasing Yung Bans' youthful energy. It is also worth noting that each tracks' duration never surpasses three and a half minutes, but that seems to be the ever more popular trend in hip hop nowadays. But in the case of Yung Bans, it works in his favor.
Deemed a part of the Soundcloud mumble-rap era, hip hop listeners are more tolerant of the shorter duration track lengths — but we'll save that argument for another time. Bans is intentional in keeping each song as short as possible, as his style of rap isn't content of substance. It's geared more towards a feeling. Most of his ad-libs and verses are usually incomprehensible and indecipherable as he floats over trap-laced beats, rapid hi-hats and snares, boasting about money that he's accrued and jewelry that he's since obtained. Occasionally, when Bans isn't flexing, or bragging about getting fellatio from women, he raps in broken bars about his drug dealing days — made clear by the short track "Posted".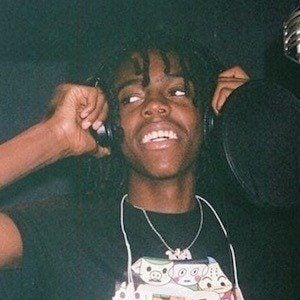 In a standout track, "Round" ft. Juice WRLD, Bans states that he is, in fact, a flat-earther: "I'm out this Earth, baby, it ain't round." I personally don't agree with that statement, because I am a man of science, but apart from that (and the fact that there's not much more substance-wise to this song) it's still fuego.
The final track, listed as "So Long My Friend," a tribute in remembrance of a slain friend and fellow rapper XXXTentacion, begins with a snippet from the breakout hit of the late rapper, "Look at Me!" — where X mentions Yung Bans. Bans uses his voice to state his frustrations and sadness when news broke that XXXTentacion had been murdered so senselessly.
I implore you all out there to give Yung Bans Vol. 5 a listen and form your own opinion.